Newsroom
Researchers and support staff recognized at The Ottawa Hospital's Excellence Awards ceremony
May 25, 2017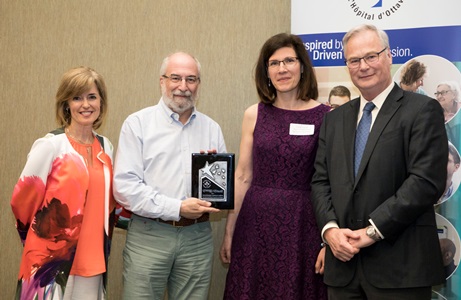 The Ottawa Hospital's Research Excellence Award has been awarded to a team of researchers responsible for a ground-breaking clinical trial of stem cell therapy for multiple sclerosis. The Ottawa Stroke Program and The Ottawa Hospital mHealth Lab were also considered top nominees. All three teams were honoured at The Ottawa Hospital's Excellence Awards ceremony on May 23.

"Research allows us to offer new therapies to our patients and improve health and patient care at The Ottawa Hospital and around the world," said Dr. Duncan Stewart, Executive Vice-President of Research at The Ottawa Hospital and professor at the University of Ottawa. "I congratulate the MS Stem Cell Transplant team for their outstanding work, as well as our other top nominees."

The Research Excellence Award is selected by the Ottawa Hospital Research Institute's Awards Committee.

In addition, the Ottawa Hospital Research Institute's Research Safety Office, which includes Tammy Troy and Jeff Hamill, was a top nominee for the Commitment to Safety award. Dr. Smita Pakhale and Dr. Steve Papp were top nominees for the Physician Clinician Recognition Award.

Summary of Research Excellence Award Top Nominees and Winners

Winner:

MS Stem Cell Transplant Team

After years of persistence, this team published a study in the Lancet that showed chemo and blood stem cell combination therapy could halt the progression of multiple sclerosis. This revolutionary trial was a world's first and attracted global attention because of its impact for patients with aggressive forms of MS who had no other treatment options. This group of scientists, fellows and research staff from both neurology and stem cell transplant departments are driven by curiosity and a determination to make a difference in the lives of their patients.

Team members: Harold Atkins, Mark Freedman, Marjorie Bowman, David Allan, Grizel Anstee, Douglas L Arnold, Amit Bar-Or, Isabelle Bence-Bruckler, Paul Birch, Christopher Bredeson, Jacqueline Chen, Dean Fergusson, Mike Halpenny, Linda Hamelin, Lothar Huebsch, Brian Hutton, Pierre Laneuville, Yves Lapierre, Hyunwoo Lee, Lisa Martin, Sheryl McDiarmid, Paul O'Connor, Timothy Ramsay, Mitchell Sabloff, Lisa Walker.

Top nominees:

Ottawa Stroke Program

This team of physicians, nurses, speech-language pathologists, physiotherapists, educators, social workers and trainees has cultivated a world-class stroke research program. Their projects include using mobile tablets for stroke rehabilitation, developing new imaging techniques for intracerebral hemorrhage, improving flow of patients with neurological diseases through the hospital, and contributing to a landmark study that made clot retrieval for acute stroke standard of care. Over the last two years, they have produced 51 publications, given 55 presentations and have $1.3 million in research funding.

Team members: Dar Dowlatshahi, Grant Stotts, Karen Mallet, Marianne Thornton, Sophia Gocan, Aline Bourgoin, Michel Shamy, Matt Hogan, Vignan Yogendrakumar, Rany Shamloul, Sohail Robert, Michael Pugliese, Joanne Lambley, Moira Teed, Tracey Dyks, Lise Zakutney.

The Ottawa Hospital mHealth Lab

This unique, multidisciplinary team works to develop and evaluate digital solutions which empower individuals to manage their own health information, help health care providers deliver better care, and improve the health care system as a whole. Collaborating with The Ottawa Hospital's top scientists and international experts, and led by Dr. Kumanan Wilson, the mHealth Lab has created solutions such as CANImmunize, RecoverNow, and The Ottawa Rules App. CANImmunize, the first pan-Canadian immunization app, has been downloaded over 185,000 times, expanding The Ottawa Hospital's impact across Canada and the world. The Ottawa Hospital mHealth Lab was also a top nominee for the Healthier Populations Award.

Team members: Kumanan Wilson, Katherine Atkinson, Cameron Bell, Ruth Rennicks White, Julien Guerinet, Yulric Sequeira, Malia Murphy, Michelle Paradis, Ashley Foster, Andrew Faulkner, Marlene Elliott, Lindsay Wilson, Jordan Gignac, Kim Barnhardt, Christina Muxlow, Domenic Richici, Andrew Rogers.


The Ottawa Hospital: Inspired by research. Driven by compassion
The Ottawa Hospital is one of Canada's largest learning and research hospitals with over 1,100 beds, approximately 12,000 staff and an annual budget of over $1.2 billion. Our focus on research and learning helps us develop new and innovative ways to treat patients and improve care. As a multi-campus hospital, affiliated with the University of Ottawa, we deliver specialized care to the Eastern Ontario region, but our techniques and research discoveries are adopted around the world. We engage the community at all levels to support our vision for better patient care. See www.ohri.ca for more information about research at The Ottawa Hospital.
University of Ottawa: —A crossroads of cultures and ideas
The University of Ottawa is home to over 50,000 students, faculty and staff, who live, work and study in both French and English. Our campus is a crossroads of cultures and ideas, where bold minds come together to inspire game-changing ideas. We are one of Canada's top 10 research universities—our professors and researchers explore new approaches to today's challenges. One of a handful of Canadian universities ranked among the top 200 in the world, we attract exceptional thinkers and welcome diverse perspectives from across the globe. www.uottawa.ca
Media Contact
Amelia Buchanan
Senior Communication Specialist
Ottawa Hospital Research Institute
Office: 613-798-5555 x 73687
Cell: 613-297-8315
ambuchanan@ohri.ca