Newsroom
Viral therapy effective against rare bone and muscle cancers in lab models
July 18, 2017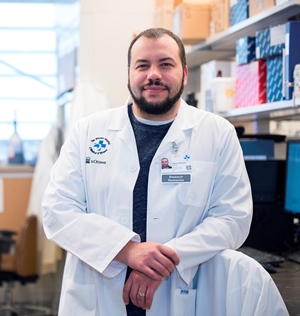 Cancers that arise in the bone, muscle and connective tissues (called sarcomas) are relatively rare and difficult to treat. Dr. Jean-Simon Diallo and Dr. Hesham Abdelbary teamed up to see if viruses that have proven effective in other cancer models might also be able to treat sarcoma. Their comprehensive study involved five different viruses, four sarcoma cell lines and 21 sarcoma samples from patients at The Ottawa Hospital. They found that the Maraba MG1 virus was best, infecting 80 percent of the human sarcoma samples and nearly doubling the number of long term survivors in an animal model. Researchers at The Ottawa Hospital, CHEO, McMaster and uOttawa have already initiated clinical trials with this virus in other kinds of cancer, and hope to test it in sarcoma patients in the future. See International Journal of Cancer for details.

Authors: Fabrice Le Boeuf, Mohammed Selman, Hwan Hee Son, Anabel Bergeron, Andrew Chen, Jovian Tsang, Derek Butterwick, Rozanne Arulanandam, Nicole E. Forbes, Fanny Tzelepis, John C. Bell, Joel Werier, Hesham Abdelbary, Jean-Simon Diallo.

Acknowledgements: This research was possible because of generous support from the community for Cancer Research at The Ottawa Hospital. This study was also funded by Valerie's Flutter Foundation, the Canadian Institutes of Health Research, the Terry Fox Foundation, the Lotte & John Hecht Memorial Foundation and the Canadian Cancer Society. Ongoing clinical trials with Maraba MG1 are supported by the Ontario Institute for Cancer Research, Turnstone Biologics and BioCanRx.


The Ottawa Hospital: Inspired by research. Driven by compassion
The Ottawa Hospital is one of Canada's largest learning and research hospitals with over 1,100 beds, approximately 12,000 staff and an annual budget of over $1.2 billion. Our focus on research and learning helps us develop new and innovative ways to treat patients and improve care. As a multi-campus hospital, affiliated with the University of Ottawa, we deliver specialized care to the Eastern Ontario region, but our techniques and research discoveries are adopted around the world. We engage the community at all levels to support our vision for better patient care. See www.ohri.ca for more information about research at The Ottawa Hospital.
University of Ottawa: —A crossroads of cultures and ideas
The University of Ottawa is home to over 50,000 students, faculty and staff, who live, work and study in both French and English. Our campus is a crossroads of cultures and ideas, where bold minds come together to inspire game-changing ideas. We are one of Canada's top 10 research universities—our professors and researchers explore new approaches to today's challenges. One of a handful of Canadian universities ranked among the top 200 in the world, we attract exceptional thinkers and welcome diverse perspectives from across the globe. www.uottawa.ca
Media Contact
Jennifer Ganton
Director, Communications and Public Relations
Ottawa Hospital Research Institute
Office: 613-798-5555 x 73325
Cell: 613-614-5253
jganton@ohri.ca