Newsroom
Researchers turn back the clock to watch aging in fast forward
July 20, 2017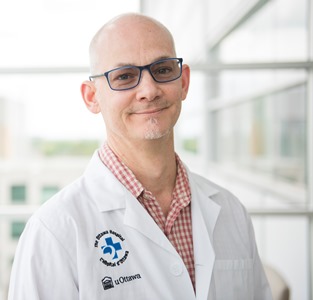 Hutchinson-Gilford progeria syndrome (HGPS) is a rare genetic disease that resembles rapid aging, with young children displaying hardened blood vessels, fragile bones and wrinkles among other symptoms. It usually results in death during the teenage years from heart attack or stroke. Dr. William Stanford and his colleagues recently showed that cells from individuals with HGPS can be genetically reprogrammed, turning them into stem cells that don't show any signs of aging. They then directed the HGPS stem cells to produce new blood vessels cells, and were able to observe the start of the aging process in fast forward. Their research could lead to a better understanding of the molecular basis of aging, as well as new treatments for HGPS, cardiovascular disease and other age-related diseases. See Aging Cell for details.

Authors: Zhaoyi Chen, Wing Y. Chang, Alton Etheridge, Hilmar Strickfaden, Zhigang Jin, Gareth Palidwor, Ji-Hoon Cho, Kai Wang, Sarah Y. Kwon, Carole Doré, Angela Raymond, Akitsu Hotta, James Ellis, Rita A. Kandel, F. Jeffrey Dilworth, Theodore J. Perkins, Michael J. Hendzel, David J. Galas, William L. Stanford.

Funders: Canadian Institutes of Health Research, Progeria Research Foundation, Heart & Stoke Foundation of Canada, Ontario Ministry of Research and Innovation, Luxembourg-ISB program, Canada Research Chairs.


The Ottawa Hospital: Inspired by research. Driven by compassion
The Ottawa Hospital is one of Canada's largest learning and research hospitals with over 1,100 beds, approximately 12,000 staff and an annual budget of over $1.2 billion. Our focus on research and learning helps us develop new and innovative ways to treat patients and improve care. As a multi-campus hospital, affiliated with the University of Ottawa, we deliver specialized care to the Eastern Ontario region, but our techniques and research discoveries are adopted around the world. We engage the community at all levels to support our vision for better patient care. See www.ohri.ca for more information about research at The Ottawa Hospital.
University of Ottawa: —A crossroads of cultures and ideas
The University of Ottawa is home to over 50,000 students, faculty and staff, who live, work and study in both French and English. Our campus is a crossroads of cultures and ideas, where bold minds come together to inspire game-changing ideas. We are one of Canada's top 10 research universities—our professors and researchers explore new approaches to today's challenges. One of a handful of Canadian universities ranked among the top 200 in the world, we attract exceptional thinkers and welcome diverse perspectives from across the globe. www.uottawa.ca
Media Contact
Jennifer Ganton
Director, Communications and Public Relations
Ottawa Hospital Research Institute
Office: 613-798-5555 x 73325
Cell: 613-614-5253
jganton@ohri.ca