Newsroom
New blood sugar monitoring a game-changer for pregnant women with type 1 diabetes
October 24, 2017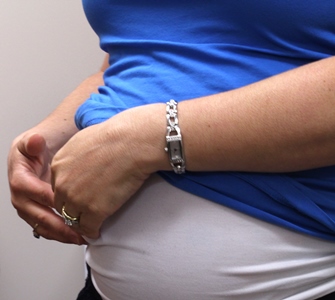 Fifteen women at The Ottawa Hospital took part in an international clinical trial that could change the way mothers with type 1 diabetes monitor their blood sugar levels. Mothers with this condition have a higher risk of having children with health complications, and have to work hard to keep their blood sugar levels on target during pregnancy. Usually blood sugar is monitored with a finger prick done four to eight times a day.

The study published in The Lancet compared this technique with wearing a device that measures glucose 288 times per day, letting users adjust their insulin and food intake in real time. Researchers found that women who used the continuous monitor had better blood sugar control and healthier babies less likely to spend time in the intensive care unit.

Co-author Dr. Erin Keely notes that while these findings will likely encourage more health-care providers to suggest continuous glucose monitors, not all insurance plans cover it.

See news release for more.

Authors: Denice S Feig, Lois E Donovan, Rosa Corcoy, Kellie E Murphy, Stephanie A Amiel, Katharine F Hunt, Elisabeth Asztalos, Jon F R Barrett, J Johanna Sanchez, Alberto de Leiva, Moshe Hod, Lois Jovanovic, Erin Keely, Ruth McManus, Eileen K Hutton, Claire L Meek, Zoe A Stewart, Tim Wysocki, Robert O'Brien, Katrina Ruedy, Craig Kollman, George Tomlinson, Helen R Murphy, on behalf of the CONCEPTT Collaborative Group.

Funders: Juvenile Diabetes Research Foundation, Canadian Clinical Trial Network, and National Institute for Health Research. This research was made possible at The Ottawa Hospital because of generous support from the community for research to improve patient care.


The Ottawa Hospital: Inspired by research. Driven by compassion
The Ottawa Hospital is one of Canada's largest learning and research hospitals with over 1,100 beds, approximately 12,000 staff and an annual budget of over $1.2 billion. Our focus on research and learning helps us develop new and innovative ways to treat patients and improve care. As a multi-campus hospital, affiliated with the University of Ottawa, we deliver specialized care to the Eastern Ontario region, but our techniques and research discoveries are adopted around the world. We engage the community at all levels to support our vision for better patient care. See www.ohri.ca for more information about research at The Ottawa Hospital.
University of Ottawa: —A crossroads of cultures and ideas
The University of Ottawa is home to over 50,000 students, faculty and staff, who live, work and study in both French and English. Our campus is a crossroads of cultures and ideas, where bold minds come together to inspire game-changing ideas. We are one of Canada's top 10 research universities—our professors and researchers explore new approaches to today's challenges. One of a handful of Canadian universities ranked among the top 200 in the world, we attract exceptional thinkers and welcome diverse perspectives from across the globe. www.uottawa.ca
Media Contact
Amelia Buchanan
Senior Communication Specialist
Ottawa Hospital Research Institute
Office: 613-798-5555 x 73687
Cell: 613-297-8315
ambuchanan@ohri.ca