Newsroom
Dr. John Bell receives top award from Canadian Cancer Research Alliance
October 30, 2017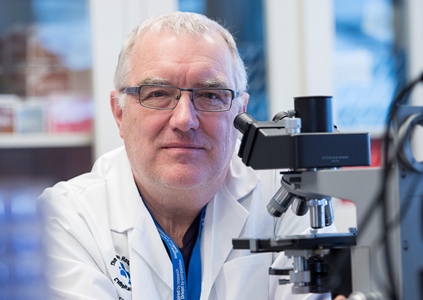 The Canadian Cancer Research Alliance (CCRA) announced today that Dr. John Bell is receiving the Outstanding Achievements in Cancer Research Award for his "pioneering work and ground-breaking scientific discoveries, which have propelled the entire field of oncolytic virus therapy forward, and his commitment to enabling translational research."

Dr. Bell is a senior scientist in cancer therapeutics at The Ottawa Hospital and professor of medicine at the University of Ottawa. He is a global pioneer in the discovery and development of oncolytic viruses, a novel class of targeted cancer therapeutics. He is founder of the Canadian Oncolytic Virus Consortium, the first of its kind in the world, which aims to expand cancer viral therapy discovery and application at all levels and is also Scientific Director of BioCanRx, a Network of Centres of Excellence, and Director of the Biotherapeutics Program for the Ontario Institute for Cancer Research.

Committed to "bench to bedside" research, Dr. Bell has worked tirelessly to build the infrastructure to make these state-of-the-art immunotherapies a reality for patients, and through his participation in various community forums, he has made oncolytic virus therapies understandable to patient populations.

The awards will be presented during the CCRA's Canadian Cancer Research Conference held in Vancouver from November 5-7, 2017.

See news release from CCRA, including details on five other award recipients.

Dr. Bell is based at The Ottawa Hospital's Centre for Innovative Cancer Research, which opened in 2011 thanks to funding from the Canada Foundation for Innovation and generous support from the community for cancer research The Ottawa Hospital.


The Ottawa Hospital: Inspired by research. Driven by compassion
The Ottawa Hospital is one of Canada's largest learning and research hospitals with over 1,100 beds, approximately 12,000 staff and an annual budget of over $1.2 billion. Our focus on research and learning helps us develop new and innovative ways to treat patients and improve care. As a multi-campus hospital, affiliated with the University of Ottawa, we deliver specialized care to the Eastern Ontario region, but our techniques and research discoveries are adopted around the world. We engage the community at all levels to support our vision for better patient care. See www.ohri.ca for more information about research at The Ottawa Hospital.
University of Ottawa: —A crossroads of cultures and ideas
The University of Ottawa is home to over 50,000 students, faculty and staff, who live, work and study in both French and English. Our campus is a crossroads of cultures and ideas, where bold minds come together to inspire game-changing ideas. We are one of Canada's top 10 research universities—our professors and researchers explore new approaches to today's challenges. One of a handful of Canadian universities ranked among the top 200 in the world, we attract exceptional thinkers and welcome diverse perspectives from across the globe. www.uottawa.ca
Media Contact
Jennifer Ganton
Director, Communications and Public Relations
Ottawa Hospital Research Institute
Office: 613-798-5555 x 73325
Cell: 613-614-5253
jganton@ohri.ca