Newsroom
How a rubber chicken helped create a novel model of a rare lung disease
December 12, 2017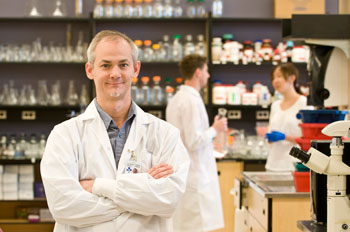 In 2009, Dr. William Stanford received a "laughter basket" including a rubber chicken from a young woman with a rare lung disease. Although he had never heard of her disease, called lymphangioleiomyomatosis (LAM), he was intrigued enough to meet with her. LAM is a devastating genetic disease characterized by abnormal growths in the lungs. It is somewhat like cancer, but far less studied. Dr. Stanford eventually agreed to study LAM and today, the results are providing hope around the world. His team's latest paper, published in Cancer Research, describes a unique model to study the disease. Since patient-derived LAM cells don't grow well in the lab, they genetically reprogrammed patient cells to become induced pluripotent stem cells (iPSCs). They found that these cells can give rise to an unlimited supply of LAM cells that will be invaluable in understanding the disease and screening possible new drugs. The woman who inspired this research was profiled by CBC earlier this year, along with Dr. Stanford.

Authors: Julian LM, Delaney SP, Wang Y, Goldberg AA, Doré C, Yockell-Lelièvre J, Tam RY, Giannikou K, McMurray F, Shoichet MS, Harper ME, Henske EP, Kwiatkowski DJ, Darling TN, Moss J, Kristof AS, Stanford WL.

Funding: This research was possible because of generous donations to The Ottawa Hospital for Regenerative Medicine research. The researchers also received support from Green Eggs and LAM, the McEwen Centre for Regenerative Medicine, the United States Department of Defense, the National Institutes of Health, the LAM Foundation, LAM Canada, the Ontario Institute for Regenerative Medicine, the University of Ottawa, the Ontario Ministry of Research, Innovation and Science and the Canada Research Chairs Program.


The Ottawa Hospital: Inspired by research. Driven by compassion
The Ottawa Hospital is one of Canada's largest learning and research hospitals with over 1,100 beds, approximately 12,000 staff and an annual budget of over $1.2 billion. Our focus on research and learning helps us develop new and innovative ways to treat patients and improve care. As a multi-campus hospital, affiliated with the University of Ottawa, we deliver specialized care to the Eastern Ontario region, but our techniques and research discoveries are adopted around the world. We engage the community at all levels to support our vision for better patient care. See www.ohri.ca for more information about research at The Ottawa Hospital.
University of Ottawa: —A crossroads of cultures and ideas
The University of Ottawa is home to over 50,000 students, faculty and staff, who live, work and study in both French and English. Our campus is a crossroads of cultures and ideas, where bold minds come together to inspire game-changing ideas. We are one of Canada's top 10 research universities—our professors and researchers explore new approaches to today's challenges. One of a handful of Canadian universities ranked among the top 200 in the world, we attract exceptional thinkers and welcome diverse perspectives from across the globe. www.uottawa.ca
Media Contact
Jennifer Ganton
Director, Communications and Public Relations
Ottawa Hospital Research Institute
Office: 613-798-5555 x 73325
Cell: 613-614-5253
jganton@ohri.ca