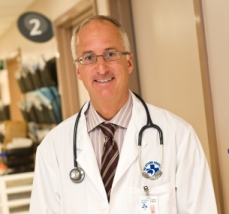 Shawn Aaron
saaron@ohri.ca
Telephone: 613-737-8899, ext 74729
Fax: 613-739-6807
Senior Scientist, Clinical Epidemiology, Ottawa Hospital Research Institute
Professor of Medicine, Faculty of Medicine, University of Ottawa
Divison Head, Division of Respiratory Medicine, The Ottawa Hospital
Biographical sketch:
Dr. Shawn Aaron is a Professor at The University of Ottawa and a Senior Scientist at the Ottawa Hospital Research Institute. Dr. Aaron received his M.D.C.M. from McGill University, then trained in internal medicine, respiratory medicine, and critical care medicine at The University of Toronto. He joined the Department of Medicine in Ottawa in 1996 and obtained his MSc degree in epidemiology from the University of Ottawa in 1999.
Dr. Aaron is a respirologist with special research and clinical interests in COPD, asthma and cystic fibrosis. Dr. Aaron's research has been focused on investigating acute pulmonary exacerbations of these diseases, with a specific interest in the critical assessment of interventions designed to prevent exacerbations and improve the diagnosis and treatment of exacerbations of COPD. His other major research interest involves the microbiology, pathophysiology, and treatment of CF exacerbations.
In the past, Dr. Aaron has held a CIHR New Investigator Award, and a Premier's Research Excellence Award. Dr. Aaron currently also holds three active CIHR operating and clinical trial grants as Principal Investigator, as well as operating grants from The Canadian CF Foundation.
Dr. Aaron has published widely in the area of cystic fibrosis. In 2010 his team completed a multi-center CIHR-funded study of the epidemiology of Pseudomonas aeruginosa infection in Ontario patients with cystic fibrosis.  This study revealed that some patients in Ontario were infected an Epidemic Strain of P aeruginosa which originated in England.  Patients infected with this strain were more likely to die, or require lung transplant over 3 years.  Results of this study were published in JAMA in 2010.  In 2005 Dr. Aaron's team completed a large CIHR-funded, multi-center Canadian and Australian study assessing combination antibiotic susceptibility testing for guiding therapy for cystic fibrosis. Results of this study were published in The Lancet in August 2005. Related research exploring the microbiology of cystic fibrosis, and cystic fibrosis pulmonary exacerbations, has been published in the past several years in the American Journal of Respiratory and Critical Care Medicine, Thorax, Journal of Clinical Microbiology, and the European Respiratory Journal.
Dr. Aaron's other active interest is in COPD. He has first authored publications examining steroid therapy for exacerbations of COPD in the New England Journal of Medicine (Aaron et al, NEJM 2003). Another study was the first to examine triple-therapy for COPD (with an inhaled steroid, long-acting beta-agonist bronchodilator, and long-acting anti-cholinergic bronchodilator).  This study was published in 2007 (Aaron et al, Annals Int Med 2007).  Other studies related to COPD exacerbations have been published in the AmJRCCM, Thorax, ERJ, and Chest.
Dr. Aaron is an expert on clinical trial design. In addition to his clinical research in COPD, asthma, and CF, he has co-authored papers related to methodologic issues in clinical trials, statistical methods for analysis of COPD exacerbation outcomes, use of decision aids for patients with lung disease, prevalence of obstructive lung disease in the community setting, and assessment of optimal use of lung function testing in the community and in a tertiary care setting.
Research Interests:
Interventions to Improve Care for Patients with Chronic Lung Disease
Clinical Trials
Cohort Studies
Therapy for Chronic Obstructive Pulmonary Disease and Cystic Fibrosis
Diagnosis and Treatment of Asthma
Microbiology of Cystic Fibrosis
Major Research Activities:
Multicenter RCT assessing simvastatin therapy for patients with COPD.
Studies of the pathogenesis and treatment and prevention of CF exacerbations.
Multicenter cohort study examining diagnosis and treatment of asthma in Canadian communities.
Recent Awards/Prizes:
2011 Ottawa Hospital Research Institute Dr. Michel Chrétien Researcher of the Year Award.
2011-2016 University of Ottawa Faculty of Medicine Clinical Research Chair in Obstructive Lung Diseases.
2006 Royal College of Physicians and Surgeons of Canada Detweiler Travelling Fellowship Award.
2004 Premier's Research Excellence Award.
2003 CIHR Rx&D- Health Research Foundation Special Research Allowance for CIHR New Investigators
2003 University of Ottawa Faculty of Medicine Young Professor Award.
2003 Ottawa Life Sciences Council Promising Scientist Award
2003-2008 CIHR New Investigator Award
Current Funding:
2012-2013            $70,350                 Canadian CF Foundation
Acute effects of viral respiratory infection on chronic endobronchial
P. aeruginosa
infection in patients with CF.
2011-2015            $1,954,258           CIHR
Simvastatin therapy for moderate and severe COPD (STATCOPE).
2011-2016            $935,738               CIHR
Strategies to improve diagnosis and treatment of asthma in Canadians
2010-2012            $171,938               CIHR
Dissemination and implementation of a lung transplant decision aid
Most Significant Publications
Aaron SD, Vandemheen KL, Ramotar K, et al.  Infection with transmissible strains of Pseudomonas aeruginosa and clinical outcomes in adults with cystic fibrosis.  JAMA 304 (19): 2145-2153, 2010.


Aaron SD, Vandemheen K, Boulet LP, et al.  Over-diagnosis of asthma in obese and non-obese adults.  CMAJ 179(11): 1121-1131, 2008


Aaron SD, Vandemheen KL, Fergusson D, Maltais F, Bourbeau J, Goldstein R, et al.  Tiotropium in combination with placebo, salmeterol or fluticasone/salmeterol for treatment of chronic obstructive pulmonary disease: A randomized trial.    Annals of Internal Medicine 146 (8):545-555, 2007. 


Aaron SD, Vandemheen KL, Ferris W, Fergusson D, Tullis E, Haase D, Berthiaume Y, Brown N, Wilcox P, Yozghatlian V, Bye P, Bell S, Chan F, Rose B, Jeanneret A, Stephenson A, Noseworthy M, Freitag A, Paterson N, Doucette S, Harbour C, Ruel M, MacDonald M.  Combination Antibiotic Susceptibility Testing to Treat Exacerbations of Cystic Fibrosis Associated with Multi-Resistant Bacteria: A Randomized, Double-Blind, Controlled Clinical Trial.  The Lancet 366: 463-71, 2005.


Aaron SD, Vandemheen K, Hebert P, Dales R, Stiell I, Ahuja J, Dickinson G, Brison R, Rowe B, Dreyer J, Yetisir E, Cass D, Wells G.  Outpatient oral prednisone after emergency treatment of chronic obstructive pulmonary disease.  The New England Journal of Medicine 348, 2618-25, 2003.
Most Recent Publications (provided by The Ottawa Hospital Library Database)
Aaron SD;, (2014 Mar), Measuring and quantifying acute exacerbations of COPD: pitfalls and practicalities,
Eur Respir J
, Vol.43, Issue 3, 662-664
Stiell IG;Clement CM;Aaron SD;Rowe BH;Perry JJ;Brison RJ;Calder LA;Lang E;Borgundvaag B;Forster AJ;Wells GA;, (2014 Feb 18), Clinical characteristics associated with adverse events in patients with exacerbation of chronic obstructive pulmonary disease: a prospective cohort study,
CMAJ
, ->
view abstract
Jeukens J;Boyle B;Kukavica-Ibrulj I;Ouellet MM;Aaron SD;Charette SJ;Fothergill JL;Tucker NP;Winstanley C;Levesque RC;, (2014), Comparative Genomics of Isolates of a Pseudomonas aeruginosa Epidemic Strain Associated with Chronic Lung Infections of Cystic Fibrosis Patients,
PLoS One
, Vol.9, Issue 2, e87611 ->
view abstract
Stiell IG;Clement CM;Brison RJ;Rowe BH;Borgundvaag B;Aaron SD;Lang E;Calder LA;Perry JJ;Forster AJ;Wells GA;, (2013 Jan), A risk scoring system to identify emergency department patients with heart failure at high risk for serious adverse events,
Acad Emerg Med
, Vol.20, Issue 1, 17-26 ->
view abstract
Aaron SD;, (2013 Feb 19), Review: Corticosteroid plus LABA inhalers, vs LABAs alone, reduce morbidity in COPD,
Ann Intern Med
, Vol.158, Issue 4, JC9 ->
view abstract
Dettman JR;Rodrigue N;Aaron SD;Kassen R;, (2013 Dec 9), Evolutionary genomics of epidemic and nonepidemic strains of Pseudomonas aeruginosa,
Proc Natl Acad Sci U S A
, ->
view abstract
Aaron SD;Vandemheen KL;Maltais F;Field SK;Sin DD;Bourbeau J;Marciniuk DD;Fitzgerald JM;Nair P;Mallick R;, (2013), TNFalpha antagonists for acute exacerbations of COPD: a randomised double-blind controlled trial,
Thorax
, Vol.68, Issue 2, 142-148 ->
view abstract
Gershon AS;Victor JC;Guan J;To T;Aaron SD;, (2012 Oct 1), Response,
Chest
, Vol.142, Issue 4, 1072-1073
Schoustra SE;Dench J;Dali R;Aaron SD;Kassen R;, (2012 Mar 22), Antagonistic interactions peak at intermediate genetic distance in clinical and laboratory strains of Pseudomonas aeruginosa,
BMC Microbiol
, Vol.12, Issue 1, 40 ->
view abstract
Bourbeau J;Tan WC;Benedetti A;Aaron SD;Chapman KR;Coxson HO;Cowie R;Fitzgerald M;Goldstein R;Hernandez P;Leipsic J;Maltais F;Marciniuk D;O'Donnell D;Sin DD;For The Cancold Study Group;, (2012 Mar 20), Canadian Cohort Obstructive Lung Disease (CanCOLD): Fulfilling the Need for Longitudinal Observational Studies in COPD,
COPD
, ->
view abstract