Research Awards
Dr. Matías Alvarez-Saavedra

Regenerative Medicine Program / Programme de médecine régénératrice
Winner of the Dr. Ronald G. Worton Researcher in Training Award 2014 Lauréat du Prix Dr Ronald G. Worton du chercheur en formation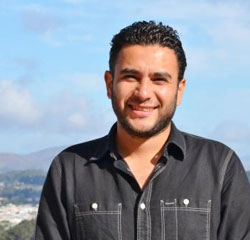 In 2003, Dr. Matías Alvarez-Saavedra wanted to determine what it all means.
He was still an undergraduate student at Montclair State University and the human genome had just been sequenced. Suddenly, his plans to become a physician changed.

"I thought, 'I'm going to have the blueprint to the entire genome! But it's going to take many years to find out what that means,'" says Dr. Alvarez-Saavedra.
Dr. Alvarez-Saavedra is fascinated by the brain and its mysteries, which eventually led him to link neuroscience and epigenetics, and to join the laboratory of Dr. David Picketts, a senior scientist at the Ottawa Hospital Research Institute and a professor in the Faculty of Medicine at the University of Ottawa.
The question that drove Dr. Alvarez-Saavedra as a doctoral student working with Dr. Picketts was: How do cells regenerate in the damaged brain? Molecular biology, genetics and transgenic mouse models are the tools that have allowed him to pursue a greater understanding of the brain's ability to rewire and repair itself, a process referred to as endogenous plasticity.
In June 2014, he was lead author of a paper published in Nature Communications. Titled "Snf2h-mediated chromatin organization and histone H1 dynamics govern cerebellar morphogenesis and neural maturation," the paper characterizes genes that are critical to the development of the brain's motor centre. Using mouse models, he discovered an endogenous mechanism of brain repair triggered by exercise and how it could stimulate the birth of myelin-producing cells that migrate through the damaged brain and repair malfunctioning neurons.

"In total, Matías will finish in my lab with six published manuscripts — four in high-impact journals — over a three-and-a-half year period," says Dr. Picketts. "This is outstanding productivity for someone at his stage."
Other work completed by Dr. Alvarez-Saavedra includes how circadian rhythms are regulated in the brain by non-coding molecules known as microRNAs, and how chromatin is modulated by remodeling enzymes, which dictates how and when our genes are expressed.

On the heels of such successful output, Dr. Alvarez-Saavedra received the prestigious Pew Fellowship Award in the Biomedical Sciences, which will allow him to continue his work in the laboratory of Dr. Michael McManus at the Diabetes Center at the University of California, San Francisco. 
Dr. Alvarez-Saavedra admits he's followed an unusual path in becoming a scientist. After completing his undergraduate degree in New Jersey, he returned to Chile, since he was not eligible to receive funding as non-U.S. citizen.

In Chile, his intention to pursue a PhD was put on hold when he met Dr. Juan Young, associate professor in human genetics at University of Miami's Miller School of Medicine (Dr. Young's postdoctoral supervisor was the renowned Dr. Huda Y. Zoghbi, human genetics, neurology and neuroscience professor at Baylor College of Medicine).
Dr. Alvarez-Saavedra decided to take time off from his studies to become a research technician for Dr. Young in a new mouse transgenics lab developing mouse models. There, he specialized in mouse genetics, brain development and epigenetics.

"I pretty much did a PhD without getting the degree," Dr. Alvarez-Saavedra says of those years. "Juan was very supportive throughout the development of my three projects that led to three separate articles."

Working in Dr. Young's lab gave him confidence uncommon for a scientist with no graduate or postgraduate degrees. His growing confidence served him well as he completed his Master's, PhD and postdoctoral studies at uOttawa.

Colleagues here recognize Dr. Alvarez-Saavedra's flair for taking risks, making bold hypotheses and then investigating them with his brand of independent experimentalism. He is equally praised as a strong collaborator. His work as a microscopist also stands out, which he says is the powerful tool to visualize cells at different levels that made him first fall in love with science.

"He has an unrivalled passion for science and is a rising star," says Dr. Picketts. "I truly believe he will make some outstanding discoveries in his chosen field in the future."