Research Awards
Dr. Shawn Aaron

Winner of the Dr. Michel Chrétien Researcher of the Year Award (2011)
at the Ottawa Hospital Research Institute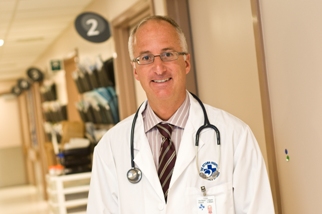 As a respirologist, Dr. Shawn Aaron provides care for people with many different lung diseases, but it is often the patients with Cystic Fibrosis who stick in his mind at the end of the day. CF is a common genetic disease that kills one person in Canada each week. Over the last 50 years, care for people with CF has greatly improved, but half of all patients still die before the age of 40.
For Dr. Aaron, simply providing standard CF treatments is not enough. As a Senior Scientist at the Ottawa Hospital Research Institute (OHRI), he is also committed to conducting research to develop new and better treatment approaches. Dr. Aaron and his team recently made a major breakthrough while studying the bacteria that often live in the lungs of CF patients. While the most common bacteria (called
P. aeruginosa
) is present naturally in our environment and doesn't harm healthy people, it can permanently damage the lungs of people with CF and lead to early death.
Previously, it was thought that most North America CF patients were infected with unique strains of
P. aeurigosa
, which they picked up from their own environment. However, Dr. Aaron and his team discovered that 15 per cent of CF patients in Ontario were infected with the exact same strain of
P. aeruginosa
, which suggests that the infection was spreading between patients. The study, which was published in the prestigious
Journal of the American Medical Association
, also showed that patients infected with this particular strain were twice as likely to die or require a lung transplant within three years compared to others. This same strain was known to exist in the U.K., but Dr. Aaron's research was the first to show that it is also present in North America
This research has sparked major changes on a number of fronts. Firstly, CF patient groups have begun taking precautions to prevent the spread of
P. aeruginosa
by arranging group meetings by video as opposed to in person. This simple change could prolong the lives of many people and help to reduce the prevalence of this dangerous strain. Dr. Aaron and other researchers are also studying this strain in more detail, so that hopefully they can develop better treatment approaches. Dr. Aaron is also involved in many other promising avenues of CF research, so at the end of the day, when he thinks about his CF patients, it is always with hope for the future.
In addition to his role at OHRI, Dr. Aaron is also the Chief of the Division of Respiratory Medicine at The Ottawa Hospital and the University of Ottawa and he holds a University of Ottawa Faculty of Medicine Clinical Research Chair in Obstructive Lung Diseases. He is known around the world as a leading respirology researcher, not only in CF, but also in asthma and Chronic Obstructive Pulmonary Disease.