Research Awards
Dr. Antoine Hakim
Winner of the Dr. J. David Grimes Research Career Achievement Award (2008)
at the Ottawa Hospital Research Institute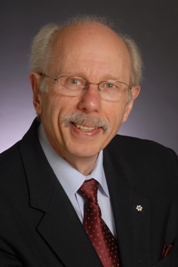 When Dr. Antoine Hakim first started out in research, stroke was thought of as an untreatable disease. It was assumed that once the blood supply to the brain was disrupted, damage would occur too quickly too allow anything to be done about it. But crucial experiments by Dr. Hakim suggested that some brain tissue could be saved, and today, many patients receive clot-busing treatments that do just that.
Dr. Hakim's insights continue to have a major impact on stroke research. For example, his research has shown that a short period of blood deprivation makes the brain more able to resist a later stroke – a phenomenon known as pre-conditioning. Ongoing studies may eventually lead to neuroprotective drugs that mimic this effect and protect the brain from stroke.
Dr. Hakim has shown outstanding leadership at the local, national and international levels. As founder of the University of Ottawa's Neuroscience Research Institute and Director of the Neuroscience Program at the Ottawa Hospital Research Institute, he has recruited numerous top international researchers to Ottawa and mentored many junior scientists and students. Dr. Hakim is also a Professor and Chair of Neurology at the University's Faculty of Medicine and a neurologist at The Ottawa Hospital.
At the national level, Dr. Hakim is the Scientific Director of the Canadian Stroke Network. Through this role he has brought more than 85 of the country's top stroke researchers and clinicians together in a model of collaboration that is now being copied around the world. Dr. Hakim spearheaded the Stroke Network's establishment of the first comprehensive national stroke registry – an achievement that is putting Canada in a leading position to establish best practices for preventing and treating stroke. Dr. Hakim was also instrumental in founding and leading the Heart and Stroke Foundation Centre for Stroke Recovery. His success in these major collaborative endeavours has been attributed to his "unique personal ability to get individuals to see beyond their own interest to work for the greater good". In 2007, Dr. Hakim was awarded the Willis Award, the highest honour of the American Stroke Association. He was also appointed Officer of the Order of Canada.