Research Awards
Caroline Breitbach
Winner of the Dr. Ronald G. Worton Researcher in Training Award (2008)
at the Ottawa Hospital Research Institute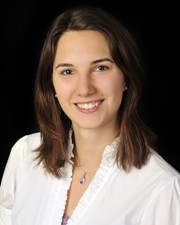 Oncolytic viruses have emerged as some of the most promising cancer therapeutics of the last decade. These viruses infect and kill cancer cells without harming normal cells, so they do not cause the side effects of traditional therapies like chemotherapy and radiation. They are also unique in that they replicate inside cancer cells, so a small dose of virus can spread throughout a tumour, and indeed throughout many tumours in the body.
Although oncolytic viruses have been the subject of a great deal of research, we still donít fully understand how they work in the body. Caroline Breitbach is trying to change that. Ms. Breitbach is a PhD student in Dr. John Bellís laboratory in the OHRI Cancer Therapeutics Program and the University of Ottawa Faculty of Medicine. Her groundbreaking research has shown that besides directly replicating inside tumours, oncolytic viruses also induce an inflammatory response that kills tumours by choking off the blood supply. Her work has focused on mice, but recent clinical trials have confirmed that the effect happens in humans as well. This crucial discovery has greatly advanced the field of oncolytic viruses and has led to the development of novel approaches to make these viruses even more potent.
Caroline has published six research papers and presented at five international conferences and her work has also led to a patent application. As an active volunteer with the outreach organization Letís Talk Science, Caroline has led interactive science demonstrations at high schools throughout Ottawa, and she even spent a week with students in Northern Ontario. Caroline is a speaker with the Canadian Cancer Society and she is fluent in English, French and German. She has received four awards from the Natural Sciences and Engineering Council of Canada, along with a scholarship from the University of Ottawa.
Senior scientists in the Cancer Therapeutics Program note that Caroline is a voracious reader who religiously attends seminars and is greatly admired and respected by her peers. She is dedicated to doing research that will impact patients and she recently accepted a postdoctoral position at a prominent Harvard laboratory.