Research Awards
Dr. Rashmi Kothary
Winner of the Dr. J. David Grimes Research Career Achievement Award (2011)
at the Ottawa Hospital Research Institute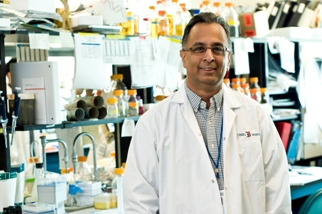 For Dr. Rashmi Kothary, the key to being a successful scientist is asking the right questions. Dr. Kothary began asking important scientific questions at a young age, and although his early experiments often resulted in dismantled radios and blown fuses, he persevered to become one of Canada's top neuromuscular researchers, and his questions over the last 30 years have resulted in therapeutically important insights into a number of devastating diseases.
After training at academic institutions in British Columbia, Ontario and England, Dr. Kothary accepted his first independent scientist position in 1990 at the Institut du cancer de Montréal. In 1998, he was recruited to the newly-formed Ottawa General Hospital Research Institute (now the Ottawa Hospital Research Institute) by founder Dr. Ronald Worton. Today, Dr. Kothary is a Senior Scientist and Associate Scientific Director at OHRI and a Professor in the Departments of Medicine and Cellular & Molecular Medicine at the University of Ottawa. He also holds a University Health Research Chair in Neuromuscular Disorders.
Over the years, Dr. Kothary and his team have made many important discoveries about diseases that affect the nerves and muscles. For example, they discovered that the gene responsible for Spinal Muscular Atrophy (the leading inherited cause of death in infants and toddlers) plays a crucial role in helping nerve cells maintain the internal scaffold that gives them their shape. This discovery has opened up a whole new avenue of research aimed at developing novel SMA treatments that target the cell scaffold. Dr. Kothary and his team have also made a number of crucial discoveries about how nerve fibres regenerate myelin, the protective layer of fatty insulation that is lost in people with Multiple Sclerosis.
Dr. Kothary has published more than 100 research papers, received many prestigious awards and organized two international conferences, but when asked what he is most proud of, he immediately talks about the trainees who have worked in his lab, including more than 50 students and postdoctoral fellows. Current trainees describe Dr. Kothary as a generous mentor who encourages them to think for themselves and develop their own questions and experiments. For these efforts, Dr. Kothary received the University of Ottawa's Excellence in Mentoring Award in 2008. Dr. Kothary has also played a key role in mentoring many younger scientists, and he has always striven to reach out to the broader community by volunteering with organizations such as Families of SMA, Muscular Dystrophy Canada, the Multiple Sclerosis Society of Canada and The Ottawa Hospital Foundation.