Research Awards
Dr. Philip Wells
Winner of the 2012 Dr. J. David Grimes Research Career Achievement Award
at the Ottawa Hospital Research Institute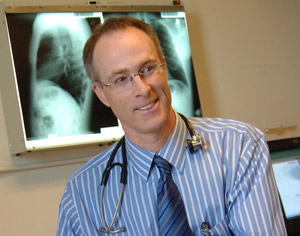 Dr. Philip Wells says his goal in life has been to make patient care better through research. This award recognizes the success he has achieved on that front — something he has accomplished by following through on a couple of simple questions. As a physician he asks, "Why do we do what we do?" And if there are some answers for that, then his question becomes, "Is there a way to improve what we are doing?"
Now with more than 225 peer-reviewed publications to his credit, this approach started emerging while he was a medical resident here in Ottawa. When the staff physician would tell him, for example, to treat a pneumonia patient for two weeks, he would wonder, "Why is it two weeks and not a week?"
"I just thought there's got to be better ways to scrutinize why we do what we do," says Dr. Wells. "So that made me think, 'I want to do research.'"
During that time, Dr. Wells became enthralled with thrombosis, something he credits to his work with a clinician named Dr. John Bormanis. It became a passion that still drives him today. "It's weird, almost , how much I love it. I love reading about it. I love talking about it, thinking about it, seeing patients with it. I really, really love it."
When he started to explore the literature on thrombosis, he was drawn to the elegant papers coming from McMaster University and was inspired to study hematology and thrombosis at the university in Hamilton, Ontario. There he started to develop what are now known around the world as the Wells models for the diagnosis of deep vein thrombosis (DVT) and for the diagnosis of pulmonary embolism. Their global recognition and use is something he still finds a bit remarkable.
"When you're a med student and you read about the Homan sign, or about a disease with someone's name attached to it, you think, 'That's pretty cool! Some person's got their name attached to a disease.' You never dream that you're going to be one of those names."
But he is.
Dr. Wells was one of the world's pioneers in using prediction rules and clinical probability to improve diagnoses and patient care. He first did it for deep vein thrombosis, and then for pulmonary embolism. Each has its own Wells Criteria.
Reflecting on his career to date, these are two in a handful of significant accomplishments that he holds up.
Dr. Wells, now the Head of Medicine at the Ottawa Hospital, was also one of the first to realize that people with DVT or pulmonary embolism could be treated on an out-patient basis. He started doing this in 1995 and Ottawa remains ahead of the curve in that respect. It represents the kind of improvement in the quality of patient care that he strives to achieve.
Dr. Wells is also credited with establishing a thrombosis unit in Ottawa that is recognized as among the best in the world. The thrombosis clinic "sees more patients than any clinic on the planet" and has "a volume of peer-reviewed research that, I'm sure, is unparalleled," says Dr. Wells.
For all his successes, he is grateful for and acknowledges his reliance on the superb and exceptionally talented collaborators he's been able to work with in pursuit of his passion to understand and treat thrombosis — and that he had a bit of good luck finding that passion in the first place.