Investigator: Ian Stiell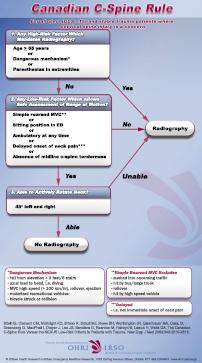 Summary: The cervical spine rule will permit physicians to standardize care of alert, stable trauma patients, to rapidly "clear" the cervical spine, and to be much more selective in the use of cervical spine radiography without jeopardizing patient care. Recently validated at nine Canadian sites and now the subject of a large CIHR-funded implementation study. The physician's dataform used in the validation study is available for review.
Available in several formats here.
References: