Investigator: Ian Stiell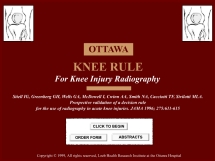 Summary: The Ottawa Knee Rule is a simple guideline developed to aid emergency physicians in deciding when to use radiography for patients with injuries to the knee. Prospective validation of the Ottawa Knee Rule has shown this decision rule to be 100% sensitive for identifying fractures of the knee, to be reliable and acceptable, and to have the potential to allow physicians to reduce the use of radiography in patients with acute knee injury.
Available in several formats here.
References: