Newsroom
$2-million project aims to bring personalized medicine to lung cancer care
October 11, 2016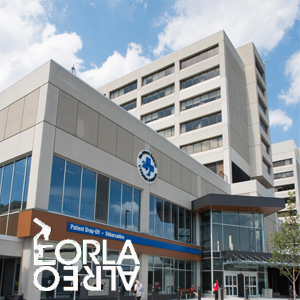 A team led by Dr. David Stewart, Dr. Bryan Lo, Dr. Pearl Campbell and Craig Ivany has received $2 million from Genome Canada and partners to develop a test that can better deliver personalized care for patients with non-small cell lung cancer. Some tumours have mutations which make them more vulnerable to "targeted" medications. While patients with non-small cell lung cancer may already be tested for EGFR and ALK mutations, these are only present in 10-15 percent of tumours. Researchers are constantly finding more mutations that could make a tumor sensitive to a specific targeted treatment, but right now there are major barriers to testing for them all. The team will develop a method to assess for several different mutations all at once on a small sample of tumour. While this project is not expected to increase the cure rates for this deadly cancer, it does have the potential to make patients feel better and live longer.

"We have an explosion of information about the tumour that is now available that can lead to better patient care," said Dr. Stewart Head of the Division of Medical Oncology at The Ottawa Hospital and the University of Ottawa, "We just need to find a way to read it all from one small sample."

This project is one of six that was recently funded by Genome Canada. The project is a partnership between The Ottawa Hospital's Cancer Centre, Molecular Oncology Diagnostics Laboratory and Regenerative Medicine Program, as well as the Eastern Ontario Regional Laboratory Association. Co-applicants include Dr. Bryan Lo, Dr. Pearl Campbell, Dr. Harman Sekhon, Dr. Theodore Perkins, Dr. Kednapa Thavorn, Dr. John Hilton and Dr. Suzanne Kamel-Reid. The project has also benefitted from support from The Ottawa Hospital Foundation, as well as partnership with the University of Ottawa.


The Ottawa Hospital: Inspired by research. Driven by compassion
The Ottawa Hospital is one of Canada's largest learning and research hospitals with over 1,100 beds, approximately 12,000 staff and an annual budget of over $1.2 billion. Our focus on research and learning helps us develop new and innovative ways to treat patients and improve care. As a multi-campus hospital, affiliated with the University of Ottawa, we deliver specialized care to the Eastern Ontario region, but our techniques and research discoveries are adopted around the world. We engage the community at all levels to support our vision for better patient care. See www.ohri.ca for more information about research at The Ottawa Hospital.
University of Ottawa
The University of Ottawa is home to over 50,000 students, faculty and staff, who live, work and study in both French and English. Our campus is a crossroads of cultures and ideas, where bold minds come together to inspire game-changing ideas. We are one of Canada's top 10 research universities—our professors and researchers explore new approaches to today's challenges. One of a handful of Canadian universities ranked among the top 200 in the world, we attract exceptional thinkers and welcome diverse perspectives from across the globe. www.uottawa.ca
For further information, please contact
Amelia Buchanan
Senior Communication Specialist
Ottawa Hospital Research Institute
Office: 613-798-5555 x 73687
Cell: 613-297-8315
ambuchanan@ohri.ca