Regenerative Medicine Program
Overview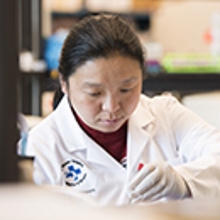 Stem cell research has paved the way for the transformative potential of regenerative medicine. By harnessing the power of stem cells to repair or replace tissues that are damaged by trauma or disease, the promise of regenerative therapies is making its way into the clinic. As our understanding of stem cells advances, we are entering an era in which we can imagine treatments for some of the world's most devastating diseases.
The Ottawa Hospital Research Institute (OHRI), together with the University of Ottawa, is a major centre for the growing area of stem cell research. Our program is unique in Canada and internationally because of its multidisciplinary culture in which developmental, cell and molecular biologists, work together with bioinformaticists, clinical scientists and clinicians in teams and common facilities. We are well supported with genomic and proteomic core facilities, and have Good Manufacturing Practice (GMP) clean rooms that are crucial for translating basic discoveries to the clinic, right here in Ottawa.
Our researchers are making crucial scientific discoveries about the fundamental mechanisms that govern stem cell function, while also making exciting progress in developing new therapies for heart disease, lung disease, muscle disease, multiple sclerosis, vision loss, diabetes, stroke, septic shock, and brain and spinal cord injury.
Our research is organized around three central aims. We:
investigate the fundamental mechanisms regulating the function of pluripotent and tissue-specific stem cells utilizing the tools of epigenetics, genomics and proteomics;
undertake rigorous preclinical studies to understand how potential therapies work and design the best approach for their use; and,
design and conduct early phase clinical trials to evaluate innovative biotherapeutics, supported by dedicated infrastructure for the processing of clinical-grade cell therapy products and expertise in trial management and regulatory compliance.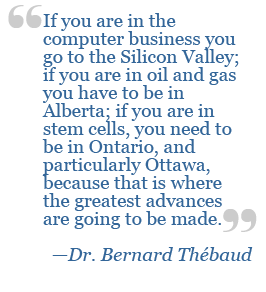 The Regenerative Medicine Program includes more than 250 basic and clinical scientists, trainees and research staff, all working under the leadership of world-renowned stem cell biologist Dr. Michael Rudnicki. The Regenerative Medicine Program is home to the Sprott Centre for Stem Cell Research, the Sinclair Centre for Regenerative Medicine and the Vision Research Centre. In addition, it serves as headquarters for Canada's Stem Cell Network (also led by Dr. Rudnicki).
Our Research Centres