Newsroom
Extra maternal care prevents brain inflammation and reduces anxiety in mice
September 22, 2017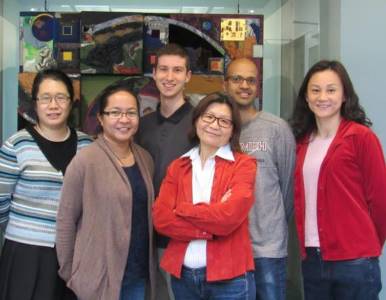 New research led by Dr. Hsiao-Huei Chen reveals that a protein called IRF2BP2 plays an important role in controlling anxiety in mice by influencing microglia, known as the immune system of the brain. Microglial cells can do many things, including fighting infections, promoting inflammation, gobbling up damaged or unwanted brain cells and encouraging healing. IRF2BP2 calms down the microglia and promotes healing over inflammation.

Dr. Chen and her colleagues created mice that lacked IRF2BP2 in their microglia and measured their anxiety in different situations. They found that while extra maternal care reduced anxiety in normal mice, it had no effect on the mutant mice. They also found this effect was related to the level of inflammation in the brain, and to an inflammatory mediator called prostaglandin D2.

"Increased maternal care in the early period after birth modifies microglia, reduces brain inflammation and lessens anxiety in response to bullying later in life," said Dr. Chen, a senior scientist at The Ottawa Hospital and associate professor at the University of Ottawa. "If our findings are confirmed in humans, this could lead to new treatments for anxiety disorders, which affect more than 10 per cent of Canadians."

See Scientific Reports for details.

Authors: Hari A, Cruz SA, Qin Z, Couture P, Vilmundarson RO, Huang H, Stewart AFR, Chen HH

Funding: This research was supported by the Natural Sciences and Engineering Research Council of Canada, The Ottawa Hospital Foundation, the Heart and Stroke Foundation of Canada, the Canadian Institutes of Health Research and the University of Ottawa Heart Institute.

Affiliations: Dr. Chen is a member of the Neuroscience Program at The Ottawa Hospital, the University of Ottawa Brain and Mind Research Institute and the Heart and Stroke Foundation Canadian Partnership for Stroke Recovery.


The Ottawa Hospital: Inspired by research. Driven by compassion
The Ottawa Hospital is one of Canada's largest learning and research hospitals with over 1,100 beds, approximately 12,000 staff and an annual budget of over $1.2 billion. Our focus on research and learning helps us develop new and innovative ways to treat patients and improve care. As a multi-campus hospital, affiliated with the University of Ottawa, we deliver specialized care to the Eastern Ontario region, but our techniques and research discoveries are adopted around the world. We engage the community at all levels to support our vision for better patient care. See www.ohri.ca for more information about research at The Ottawa Hospital.
University of Ottawa: —A crossroads of cultures and ideas
The University of Ottawa is home to over 50,000 students, faculty and staff, who live, work and study in both French and English. Our campus is a crossroads of cultures and ideas, where bold minds come together to inspire game-changing ideas. We are one of Canada's top 10 research universities—our professors and researchers explore new approaches to today's challenges. One of a handful of Canadian universities ranked among the top 200 in the world, we attract exceptional thinkers and welcome diverse perspectives from across the globe. www.uottawa.ca
Media Contact
Jennifer Ganton
Director, Communications and Public Relations
Ottawa Hospital Research Institute
Office: 613-798-5555 x 73325
Cell: 613-614-5253
jganton@ohri.ca