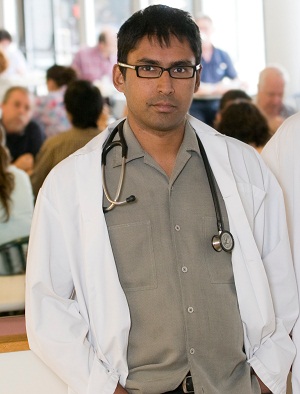 Kumanan Wilson, MD, FRCPC, MSc
Senior Scientist, Clinical Epidemiology, Ottawa Hospital Research Institute
Professor, Department of Medicine, cross-appointed to the Department of Epidemiology & Community Medicine, University of Ottawa
Attending Physician, Division of General Internal Medicine, The Ottawa Hospital
Scientist, Institute for Clinical Evaluative Sciences (ICESuOttawa)
Chair, Public Health Policy, The Ottawa Hospital, the Department of Medicine and the Ottawa Hospital Research Institute
Biosketch
Dr. Kumanan Wilson is a specialist in General Internal Medicine at the Ottawa Hospital. He is a Professor of Medicine at the University of Ottawa, Senior Scientist in the Clinical Epidemiology Program at the Ottawa Hospital Research Institute and Scientist at the Institute for Clinical Evaluative Sciences (ICESuOttawa).  He also holds a Research Chair in Public Health Policy from The Ottawa Hospital, the Department of Medicine and the Ottawa Hospital Research Institute.

Dr. Wilson has examined the use of social media to communicate vaccine messages.  He is currently using health administrative data at ICES to evaluate the safety of pediatric vaccines through an initiative called VISION (Vaccine and Immunization Surveillance in Ontario).  He is also the co-developer of the ImmunizeCA app to help individuals track their or their children's immunizations http://www.immunize.ca/en/app.aspx
Research
As the Chair in Public Health Policy, Dr. Wilson's research focuses on studying policy making in areas of health protection and public health security. His work has included analyses of decision-making in the Canadian blood system after the Krever Commission, the evolution of controversies concerning pediatric vaccination, pandemic planning, and the role of federalism in the development of public health policies.

Dr. Wilson's current research focuses on the safety of pediatric vaccination. He developed VISION (Vaccine and Immunization Surveillance in Ontario) – an analytical infrastructure for conducting studies of vaccine safety using Ontario's health administrative data.  Dr. Wilson is also examining the impact of new forms of media on dissemination of public health information. He co-developed an iPhone application that helps Ontario parents track their child's immunizations, reminds them of upcoming immunizations and notifies them of vaccine-preventable outbreaks as they occur.

Selected Publications

Hawken S, Manuel DG, Deeks SL, Kwong JC, Crowcroft NS, Wilson K. Underestimating the safety benefits of a new vaccine.  The impact of whole-cell versus acellular pertussis vaccine on health services utilization. American Journal of Epidemiology. 2012; 176(11):1035-42.
Benchimol E, Hawken S, Kwong J, Wilson K. Safety and utilization of influenza immunization in children with inflammatory bowel disease. Pediatrics. 2013 Jun; 131(6): e1811-20. [Epub 2013 May 6]
Wilson K, Hawken S, Kwong J, Deeks S, Manuel D, Holdt Henningsen K, Crowcroft N,.  Impact of birth weight at term on rates of emergency room visits and hospital admissions following vaccination at 2 months of age.  Vaccine. 2011 Oct 26; 29(46):8267-74.
Keelan J, Wilson K.  Designing a no-fault vaccine-injury compensation program for Canada:  Lessons learned from an international analysis of programs.  Munk School Briefings.  Munk School of Global Affairs.  Toronto, ON.  February 2011. 
Juurlink DN, Stukel TA, Kwong J, Kopp A, McGeer A, Upshur RE, Manuel DG, Moineddin R, Wilson K. Guillain-Barré Syndrome After Influenza Vaccination in Adults: A Population-Based Study. Arch Intern Med. 2006; 166(20):2217-2221.
Keelan J, Pavri-Garcia V, Tomlinson G, Wilson K. YouTube as a Source of Information on Immunization: A Content Analysis. JAMA. 2007; 298(21):2481-2484.
Wilson K, Brownstein J.  Early detection of disease outbreaks using the Internet.  Canadian Medical Association Journal. 2009; 180:829-31.


Wilson K, McDougall C, Fidler DP, Lazar H.  Strategies for implementing the new International health regulations in federal states.  Bulletin of the World Health Organization.  2008; 86:215-220.
Wilson K, Graham I, Ricketts M, Dornan C, Laupacis A, Hebert P.  Variant Creutzfeldt-Jakob disease and the Canadian blood system after the tainted blood tragedy. Soc Sci Med. 2007 Jan; 64(1):174-85.


Wilson K, Ricketts MN.  Transfusion transmission of vCJD: a crisis avoided?  Lancet. 2004 Aug 7-13; 364(9433):477-9.
PubMed publications can be found
here
.