Lynn Megeney, PhD
lmegeney@ohri.ca
(613) 737-8618 (T)
(613) 739-6294 (F)
Senior Scientist, Regenerative Medicine, Ottawa Hospital Research Institute
Associate Professor, Departments of Medicine and Cellular and Molecular, University of Ottawa
Research Interests
Our lab is interested in defining the organizing principles and biologic impact of signal transduction pathways.
Biographical Sketch
As a PhD candidate in the lab of Dr. Arend Bonen (University of Waterloo), Dr. Megeney investigated the basis for neural regulation of skeletal muscle gene expression. As a post-doctoral fellow in the lab of Dr. Michael Rudnicki (Inst. for Molecular Biology and Biotechnol., McMaster University), his research activities focused on defining the molecular genetic regulation of skeletal muscle stem cells anDr. Megeney is a senior scientist at the Sprott Centre for Stem Cell Research at the Ottawa Hospital Research Institute. He is an Associate Professor in the Departments of Medicine and Cellular and Molecular Medicine at the University of Ottawa and currently holds the Mach-Gaennslen Chair in Cardiac Research. He arrived at the OHRI in 1997 following completion of post-doctoral studies at McMaster University and has recently co-founded the biotech company Verio Therapeutics Inc. with Dr. Michael Rudnicki. Dr. Megeney remains a proud Nova Scotian, enjoys lifting heavy objects (although he shouldn't), doing silly things (like climbing mountains) and aspires to make biscuits as good as his Grandmother did (a serious scientific challenge). Dr. Megeney's laboratory is funded by research grants from the Canadian Institutes of Health Research (CIHR), the Muscular Dystrophy Association (USA) and the Heart and Stroke Foundation of Canada.
Current Research Activities
Cell Fate Determination
Multi-cellular organisms contain an impressive array of cell phenotypes, a catalogue of almost limitless possibilities. Despite such complexity, basic cell fate is limited in scope. For example, at some point in their respective life cycle, all cells from simple or complex biota will divide, mature, senesce and die. The endpoint for each cell fate appears distinct, yet the initial changes that take place within dividing, dying, or maturing cells are remarkable similar. Our laboratory is exploring the hypothesis that changes in cell fate are initiated by a limited set of core proteins. Moreover, it is our contention that this core set of regulatory factors are widely known pro-apoptotic proteins.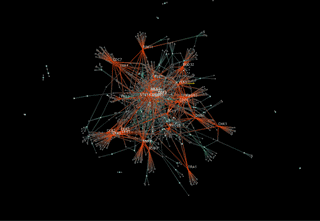 In support of this hypothesis we have demonstrated that the terminal executioner protease caspase 3 is required for normal differentiation of skeletal muscle stem cells and inhibition of caspase activity leads to a dramatic reduction in muscle formation (Fernando et al. 2002). Subsequently, the pro-differentiation effects of this 'cell death' protein have been reported in a variety of cell types, suggesting that caspase directed differentiation is a highly conserved mechanism (Fernando and Megeney 2007; Abdul-Ghani and Megeney 2008). In addition, we have begun to explore the evolutionary "intent" of these pro-apoptotic cascades using both yeast and Drosophila models. In this regard, we have demonstrated that the single caspase protein found in yeast plays a vital role in cell cycle progression independent of any effect on cell death (Lee et al. 2008). We are continuing to investigate the nature of this pathway, as well as exploring the mechanisms by which these pro-apoptotic proteins engineer distinct cell fate outcomes.
The premise we are exploring is a fundamental biologic question, yet the knowledge gained may have a profound impact on a number of human diseases. For example, we anticipate that the genetic loss or inhibition of apoptotic proteins may cause the defective differentiation program in many cancer cell types. We are also investigating the role of apoptotic dependent signals as initiating events in cardiac hypertrophy, a common post-natal form of heart disease.
Muscle Disease Therapeutics
In addition to our basic research interests, we are actively developing strategies and approaches to treat skeletal muscle and cardiac disease. Our laboratory was the first group in the world to report evidence of cardiac muscle stem cells (Hierlihy et al. 2002). Following this discovery and in collaboration with our commercial partners (Verio Therapeutics Inc.) we have been developing compounds that selectively activate these stem cells as a means to repair cardiac muscle damage following an infarct/heart attack.
A second area of therapeutic focus is the development of pharmacologic/protein based treatments for muscular dystrophy. For example, we have shown that the signaling protein JNK1 is constitutively activated in dystrophic muscle and direct blockade of this kinase leads to amelioration of the muscle pathology (Kolodziejczyk et al. 2001). Drug regimes using prednisone related glucocorticoids have proven to be effective in delaying dystrophy progression and we have demonstrated that these compounds appear to work in part by returning JNK1 targeted substrates to a predisease state (St-Pierre et al. 2004). Our current efforts in this area are focused on testing candidate molecules/proteins that limit the downstream effects of JNK1 activity.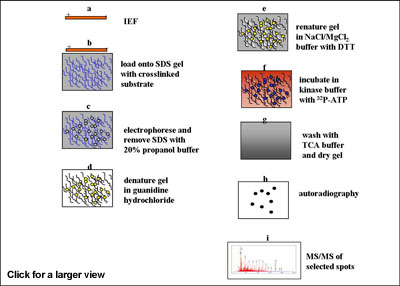 Representative Publications
Lee, R.E.C., Puente, L.G., Kaern, M., and Megeney, L.A. (2008).  A non-death role of the yeast metacaspase: YCA1p alters cell cycle dynamics. PLoS ONE, 3(8), e2956.  (PMID: 18698411).
Abdul-Ghani, M., and Megeney, L.A. (2008).  Rehabilitation of a contract killer:
Caspase 3 directs stem cell differentiation. Cell Stem Cell, 2, 515-516. (PMID: 18522841).
Fernando P, and Megeney LA. (2007). Is caspase-dependent apoptosis only cell differentiation taken to the extreme?  FASEB J. 21, 8-17. (PMID: 17093139).

Puente LG, Voisin S, Lee RE and Megeney LA. (2006). Reconstructing the regulatory kinase pathways of myogenesis from phosphopeptide data. Mol Cell Proteomics. 5, 2244-2251. (PMID: 16971385).
Puente LG, Borris DJ, Carriere JF, Kelly JF and Megeney LA. (2006). Identification of candidate regulators of embryonic stem cell differentiation by comparative phosphoprotein affinity profiling. Mol Cell Proteomics. 5, 57-67.
(PMID: 16188873).
Fernando P, Brunette S and Megeney LA. (2005). Neural stem cell differentiation is dependent upon endogenous caspase 3 activity. FASEB J. 19, 1671-1673. (PMID: 16103108).

Lee RE and Megeney LA. (2005). The yeast kinome displays scale free topology with functional hub clusters. BMC Bioinformatics. 6, 271-275. (PMID: 16283924).
Fernando P, Deng W, DeRepentigny Y, Kothary R, Kelly JF and Megeney LA. (2005). Active kinase proteome screening reveals novel signal complexity in cardiomyopathy. Mol. Cell. Proteomics 4, 673-682. (PMID: 15722372).
St-Pierre SJG, Kolodziejczyk SM, Knudson JC, Chakkallal J, Jasmin B and Megeney LA. (2004). Glucocorticoid treatment alleviates dystrophic myofiber pathology by activation of the calcineurin/NF-AT pathway. FASEB J. 18, 1937-1939. (PMID: 15456738).
Hierlihy AM, Seale P, Lobe CG, Rudnicki MA and Megeney LA. (2002). The post-natal heart contains a myocardial stem cell population. FEBS Lett. 530, 239-243. (PMID: 12387899).

Fernando P, Kelly JF, Balazsi K, Slack RS and Megeney LA. (2002). Caspase 3 activity is required for skeletal muscle differentiation. Proc Natl Acad Sci U S A. 99, 11025-11030. (PMID: 12177420).
Current Lab Members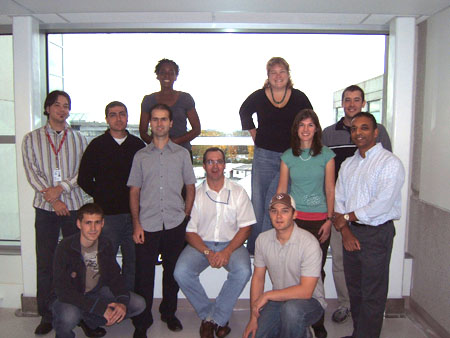 Visiting Scientists:  Laetitia Guevel
Research Associates/Post-Doctoral Fellows:  Janet George
Research Techicians:  Jennifer Knudson, Steve Brunette
Graduate Students:  Mohammad Abdul-Ghani, Robin Lee, Brian Larsen, Carol Evans, Sergei Kalynych, Sarah Dick, Leanne Burns, Rebecca Stiles
Lab Alumni
Kim Balazsi
Steve Kolodziejczyk
Pasan Fernando
Lawrence Puente
Jackie Sandoz
Andree Hierlihy
Andrea Rowan-Carroll
Julie Buick
Simon St-Pierre
Beata Pekalska
JF Carriere
Anna O'Brian