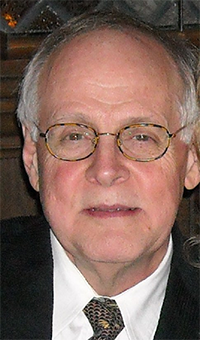 Fraser W. Scott, PhD
fscott@ohri.ca
Telephone:
Office: 613-737-8929
Lab: 613-737-8061
Location:
General Campus - ORCC 3rd Floor
501 Smyth Road
Ottawa, Ontario, Canada, K1H 8L6

Senior Scientist, Chronic Disease, Ottawa Hospital Research Institute; Professor, Department of Medicine and Department of Biochemistry, Microbiology and Immunology, Faculty of Medicine, University of Ottawa
Dr. Scott studied Chemistry at McGill University and received a PhD in Biochemistry from Queen's University (Kingston) followed by postdoctoral training at the MacEachern Cancer Research Unit, University of Alberta.  He then joined the Nutrition Research Division of Health Canada as a Research Scientist.  In 1999, he joined the Ottawa Hospital Research Institute where he is a Senior Scientist in the Chronic Disease Program.  He is also a Professor in the Departments of Medicine and Biochemistry, Microbiology and Immunology at the University of Ottawa.
Research Interest - Environmental control of gut immunity, ß-cell health and type 1 autoimmune diabetes (T1D)
Our lab is interested in how environmental factors, particularly dietary antigens, influence the development of T1D 1-2.  A major focus is to understand the diabetes-promoting interactions between dietary antigens, the gut immune system and endocrine pancreas by (i) characterizing pathways in gut and pancreas that are abnormal3-5 and (ii) defining abnormal gut immune responses to dietary and microbial antigens that promote or inhibit diabetes in animals and patients 6,7.
T1D is an autoimmune disease in which the patient's immune system destroys the insulin-producing ß-cells in the pancreatic islets. The remarkable ~2 fold increase in incidence over the past 50 years is not explained by changes in genetic risk, but is thought to be due to factors in the environment. The prime suspects are enteroviruses, dietary antigens and gut microbes.  All of these agents have their first major encounter with the immune system in the gut. Thus, successful treatment or prevention of diabetes depends on a better understanding of how these factors influence the gut immune system, pancreas inflammation and ß-cell health (FIG.1).
Nutritional modification of autoimmune diabetes: the link between dietary antigens - gut immune system - islet ß-cells  The gut immune system is abnormal in a significant subset of patients with T1D who display one or more of the following:  impaired oral tolerance8, increased gut permeability, and a pro-inflammatory cytokine profile.  In the diabetes-prone BB rat, there is a pro-inflammatory Th1 cytokine pattern in the immune cells that infiltrate the islets.  This inflammation is dampened in animals fed a protective, low antigen diet9 suggesting that diet controls the islet-directed inflammatory process.  By contrast, animals fed diabetes-promoting, cereal-based diets display an unusually high proportion of CD4+, IFN-γ producing T cells in the main inductive site for the gut immune system, the mesenteric lymph nodes (MLN)6.  The findings in this animal model of T1D appear to reflect the situation in humans with T1D.  Our recent data show there is a large subset of patients who display strong pro-inflammatory, mainly Th1 cell reactivity to wheat proteins7.  Immune reactivity to a protein we discovered by screening a wheat cDNA expression library  with serum from diabetic BB rats10, is also increased in a subset of T1D patients8 and may even be an early marker of celiac disease11.  Thus, the basis of abnormal immune response to wheat peptide antigens in diabetes-prone animals and humans continues to be a research focus. 
A gut-centric working model of T1D – M2 macrophages and antimicrobial proteins:  The gut is where dietary molecules, microbes and other non-self chemicals have their first major encounter with the largest population of immune cells in the body.  We hypothesize that the gut barrier and the gut immune system are abnormal in some susceptible individuals permitting uncontrolled amounts of dietary and microbial antigens to stimulate an abnormal immune system to mistakenly target  insulin-producing ß-cells.  This model is described in more detail in two reviews2,12 and in FIG. 1. 

Furthermore, our recent studies indicate that there is a deficit of CD163+ M2 immunosuppressive macrophages in the gut of diabetes-prone rats and an immune response against these cells is sometimes observed in humans13. Additional studies indicate the involvement of antimicrobial proteins in the development of T1D.
Compromised regenerative capacity and abnormal ß-cell metabolism?    Our data show that diets with different diabetes-promoting capacity affect the ability of the endocrine pancreas to retain sufficient ß-cells to maintain normal blood glucose.   Two regenerative processes are increased in the pancreas of diabetes-prone rats. The first is islet neogenesis (the formation of ß-cells from non-ß-cells, e.g. ducts), which is represented by extra-islet, insulin+ clusters.  The second is the formation of neogenic structures called tubular complexes3.  Although both of these processes are increased in the pancreas of diabetes-prone rats, the animals are unable to maintain normal blood glucose levels in the face of a chronic immune attack, possibly because of a decreased capacity to expand into mature islets5.  These processes represent early but futile attempts to maintain islet mass and could be influenced by diet. Therefore, diets that influence diabetes development probably do so through combined effects on islet ß-cell health and the gut immune system.  
ß-cell metabolism could be different in diabetes-prone individuals.  For example, we recently reported that aggregates of the normal prion protein, PrPC, occur in the cytosol of ß-cells and their formation was responsive to changes in blood glucose14,15.  This suggested that PrPC can exist in an aggregated form in vivo, and is linked with glucose homeostasis.
Funding
Our research is funded by the Canadian Institutes of Health Research and Cure Diabetes.
Current Research Group Members

Dr. Gen-Sheng Wang, Research Associate, gswang@ohri.ca
Christopher Patrick, PhD Candidate, cpatrick@ohri.ca
Ariana Noel, MSc Candidate, arnoel@ohri.ca
Mahmoud Husseini, MSc Candidate, mhusseini@ohri.ca
Jennifer Crookshank, Senior Research Technician, jcrookshank@ohri.ca
Laura Vallejo, 4th year Honours Student, lvallejo@ohri.ca
Fraser W. Scott, Principal Investigator, fscott@ohri.ca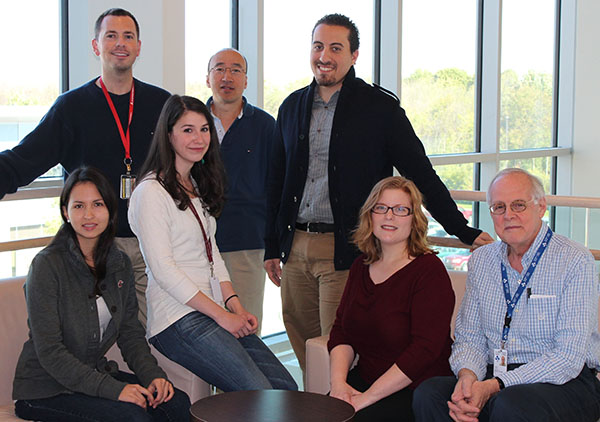 Front Row: Laura Vallejo, Ariana Noel, Jennifer Crookshank, Fraser Scott
Back Row: Christopher Patrick, Gen-Sheng Wang, Mahmoud Husseini
Selected Publications