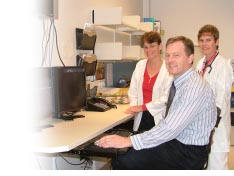 Clinical research helps us answer questions about health and medical care. It helps researchers develop new approaches to prevent, diagnose, and treat disease, and it helps health care providers determine which approaches are best for which patients. Clinical research often involves clinical trials - research studies in human volunteers designed to answer specific health questions. Some clinical trials may involve testing experimental treatments in patients, while others may simply involve observing patients or collecting samples to study in a laboratory.
The Ottawa Hospital Research Institute is a major centre for clinical research, with more than 130 researchers and several thousand patients involved in clinical studies each year. All of our clinical researchers are also health care providers at The Ottawa Hospital and faculty members at the University of Ottawa. Over the years, our research has resulted in significant improvements in health care, including improved diagnosis of ankle injuries and blood clots, better management of diabetes, HIV, chronic bronchitis, and many cancers, and novel resources to help patients and health care providers make the best health decisions.
For more information, please see our clinical research pamphlet, frequently asked questions and clinical research news stories. If you are interested in participating in a trial, the best approach is to speak with your health care provider. You may also want to refer to www.ontariocancertrials.ca or www.clinicaltrials.gov (both of these websites provide a searchable database of clinical trials).