Students & Fellows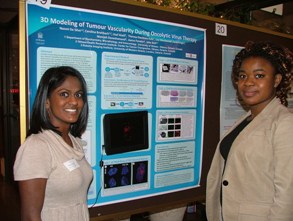 The Ottawa Hospital Research Institute (OHRI) is one of Canada's fastest growing research institutes with over $100 million in annual funding. It includes:
More than 100 Scientists and 200 Clinical Investigators
Six important biomedical and clinical research Programs
Valuable training experience - currently more than 300 graduate students and postdoctoral fellows
In partnership with the
University of Ottawa's Faculty of Medicine
, the OHRI offers training opportunities for postdoctoral fellows, graduate students, summer students, and honours students. Besides rigorous research projects and classes, the OHRI also offers excellent opportunities for academic and social interaction, including the annual OHRI Research Day (shown above), holiday bowling party, and summer picnic. We encourage potential students and research fellows to email any of our
Scientists
directly, should their particular field of research be of interest. We cannot, however, accept unsolicited CVs sent to the general web address. To find out more about Canada's capital city, visit
www.ottawa.com
.
Graduate students
Many OHRI Faculty who are actively recruiting graduate students post opportunities on the OHRI
Careers
webpage. OHRI Scientists also welcome inquiries at any time from excellent candidates interested in pursuing a PhD or MSc degree. Potential students should email any of our
Scientists
directly. Depending on the Scientist's field of research and University Faculty appointments, almost all graduate students in the OHRI receive their degrees from one of five graduate programs in the Faculty of Medicine at the University of Ottawa: Cellular and Molecular Medicine, Biochemistry, Epidemiology and Community Medicine, Microbiology and Immunology, and Neuroscience. Details on application procedures, admissions requirements, and the programs of study can be found on the
graduate program websites
. Graduate students at the OHRI are guaranteed a minimum stipend. Those with excellent academic records also get free tuition and other awards.
Postdoctoral Fellows
Specific opportunities for Postdoctoral Fellows are posted on the OHRI Careers webpage. We also encourage potential Postdoctoral Fellows to email any of our
Scientists
directly. Postdocs at the OHRI are also affiliated with the University of Ottawa.
Summer students
Are you looking for a summer job? The OHRI has a great program for students who want to work and get experience in research during the summer break. The OHRI program includes weekly seminars for summer students, and prizes are awarded at the end of the year for the best students. Interested? Find out more about our
Scientists
here and contact them directly if you are interested in a summer position.
Honours students
University of Ottawa undergraduate students looking for an Honours Project supervisor can find out more about the research being done by our
Scientists
here. If you are interested in an OHRI Scientist as a potential Honours supervisor, please contact them directly. Your Honours Program will have information about requirements and application procedures.