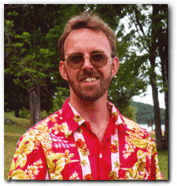 Dennis E. Bulman, PhD
(613)737-8993 (T)
(613) 737-8803 (F)
dbulman@ohri.ca



Affiliate Investigator, Regenerative Medicine, Ottawa Hospital Research Institute
Associate Professor, Department of Medicine, Division of Neurology
Cross-Appointments:
Dept of Biochemistry, Microbiology, and Immunology, University of Ottawa
Research Institute of the Children's Hospital of Eastern Ontario
Biographical Sketch
B.Sc. (University of Western Ontario)
M.Sc. (University of Western Ontario)
Ph.D. (University of Toronto)
Dr. Bulman received a B.Sc. in Genetics and an M.Sc. in Microbiology and Immunology from the University of Western Ontario. In 1993 he completed a Ph.D. in Molecular and Medical Genetics at the University of Toronto.
Dr. Bulman is a Senior Research Scientist at the Ottawa Hospital Research Institute, and an Associate Professor in the Division of Neurology, Department of Medicine at the University of Ottawa. He is a Network Scholar of the Canadian Genetic Disease Network, and a Canadian Foundation for Innovation Researcher. He is a specialist in the field of Human Genetics where he is published extensively in the areas of classical genetics, X-linked disorders, autosomal dominant traits and complex multifactorial diseases. His current research work involves finding the genes for Parkinson's disease, migraine, ataxia, various forms of epilepsy, Bi-cuspid Aortic Valve, Brachydactyly A-1 and myoclonus dystonia within large families which are affected by these disorders..
Research Interests
-Genes involved in Parkinson's Disease
-Episodic Neurological Disorders
-Ion Channel diseases
-Genetic factors in Cardiac Valve Development
-Brachydactyly type A1
Major Research Activities
Members of laboratory are part of a team that conducts high throughput genotyping as a first step towards identifying genes responsible for human disease. Once a region of the genome is found to be "linked" to the disorder, we construct a fine genetic map and refine the position of the gene of interest. Standard positional cloning strategies including a bioinformatics approach are used to identify candidate genes. Validation of the disease gene is accomplished upon the identification of mutations. Characterization of the "normal" and "mutant" gene and its gene product are performed as part of the basic science research work in the laboratory.
Major Awards
June 2004 - The Robert H. Haynes, Young Scientist Award, Genetics Society of Canada
Feb 2003 - Premier's Research Excellence Award
April 1998 - Present Network Scholar, Canadian Genetic Disease Network
July 1996 - June 2001 Medical Research Council Scholarship, Medical Research Council of Canada
October 1998 Canadian Foundation for Innovation Researcher Award
Affiliations
Oct 1997 - Present Department of Microbiology, Immunology and Biochemistry
Nov 1997 - Present School of Graduate Studies and Research
Sept 1997 - Present Affiliate Member, CHEO Research Institute
1999 - Present, Director of the genotyping facility with
the Centre for Applied Genomics
Current Funding Sources
1) CIHR
2) The Heart and Stroke Foundation
3) Genome Canada
4) ORDCF

Current Publications (Selected)
Kirkpatrick, T., Au, K.-S., Mastrobattista, J., McCready, E., and Bulman DE., Northrup, H. (2003) Identification of a mutation in the Indian Hedgehog (IHH) gene causing brachydactyly type A1 and evidence for a third locus. J Med Genet 40:42-44(Funded in part by CIHR MOP-53166).PMID: 12525541
Han F, Lang AE, Racacho L, Bulman DE, Grimes DA. (2003) Mutations in the-sarcoglycan gene found to be uncommon in seven myoclonus dystonia families. Neurology 61:244-246. PMID: 12874409
Chan EM, Bulman DE, Paterson AD, Turnbull J, Andermann E, Rouleau GA, Delgado-Euscueta AV, Scherer SW, Minassian BA. Genetic mapping of a new Lafora Progressive Myolconus Epilepsy locus (EPM2B) on 6p22 (2003) J Med Genet. 40 (9): 671-5. PMID: 12960212
Scoggan KA, Bulman DE (2003). Single-strand conformational polymorphism analysis (SSCP) and sequencing for ion channel gene mutations. Methods Mol Biol. 217:143-51. PMID: 12491929
Grimes, DA., Han, F., Lang, AE., St. George-Hyslop, P., Racacho, L., Bulman, DE. (2002) A novel locus for inherited myoclonus-dystonia on 18p11. Neurology 59:1183-1186. PMID: 12391345
McCready, M.E., Sweeney, E., Fryer, A.E., Donnau, D., Baig, A., Racacho, L., Warman, M.L., Hunter, A.G.W., Bulman, D.E. (2002) A Novel Mutation in the IHH Gene Causes Brachydactyly Type A1; A Ninety-Five Year Old Mystery Resolved. Human Genetics 111: 368-375. PMID: 12384778
Grimes DA, Grimes JD, Racacho L, Scoggan KA, Han F, Schwarz BA, Woulfe J, Bulman D (2002) Large French-Canadian Family with Lewy Body Parkinsonism: Exclusion of Known Loci. Mov Disord. 17:1205-1212. PMID: 12465058
Grimes, D.A., Bulman, D.E. (2002) Parkinson's genetics - creating exciting new insights. Parkinsonism Related Disord. 8:459-464. PMID: 12217636
Armour CM, McCready ME, Baig A, Hunter AG, Bulman DE. A novel locus for brachydactyly type A1 on chromosome 5p13.3-p13.2. J Med Genet. 2002 Mar;39(3):186-8. PMID: 11897820
Gupta, SK, Leonard, BC., Damji, KF., Bulman, DE. A Frameshift Mutation in a Tissue-Specific Alternatively Spliced Exon of Collagen 2A1 in Wagner's Vitreoretinal Degeneration. Am J Ophthalmol. 2002 Feb;133(2):203-10. PMID: 11812423
Scoggan KA, Chandra T, Nelson R, Hahn AF,
Bulman DE.
Identification of two novel mutations in the CACNA1A gene responsible for episodic ataxia type 2.
J Med Genet.
2001 Apr;38(4):249-53.
PMID: 11370629
Grimes DA, Bulman DE, St. George-Hyslop P, Lang AE. Inherited Myoclonus-Dystonia: Evidence Supporting Genetic Heterogeneity. Mov. Disord. 2001. 16:106-110. PubMed ID: 11215567
Struyk AF, Scoggan KA, Bulman DE, Cannon SC. The human skeletal muscle Na channel mutation R669H associated with hypokalemic periodic paralysis enhances slow inactivation. The Journal of Neuroscience 2000 Dec 1:20 (23):8610-8617. PubMed ID: 11102465
Racacho L, McLachlan RS, Ebers GC, Maher J, Bulman DE. (2000) Evidence favouring genetic heterogeneity for febrile convulsions. Epilepsia 41:132-139 PubMed ID: 10617918
Armour CM, Bulman DE, Hunter AGW. (2000) Clinical and radiologic assessment of a family with mild Brachydactyly Type A1: the usefulness of metacarpophalangeal profiles. J Med Genet 37:292-6. PubMed ID: 10745048
Lab Members and Collaborators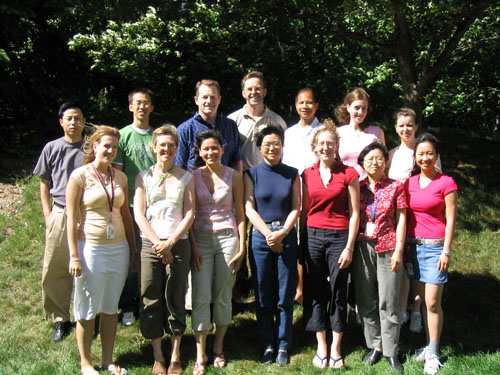 Top Row left to right: Fabin Han, Andrew Seto, David Grimes, Dennis Bulman, Lemuel Racacho, Jessica Skof, Lita McDonald

Bottom Row left to right: Ashley Byrnes, Heather MacDonald, Kelly Westaff, Fengxia Xiao, Allison Grimsey, Ruobing Zou, Lam Pham

Absent: Courtney Casserly, Kathleen Hamilton, Marisa Rossi