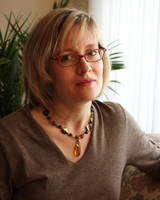 Valerie A. Wallace, PhD
(613) 737-8234 (T)
(613) 737-8803 (F)
vwallace@ohri.ca



Director and Senior Scientist, Vision Program, Ottawa Hospital Research Institute
Professor, Department of Ophthalmology, and Department of Biochemistry, Microbiology and Immunology, University of Ottawa
Dr. Wallace joined the OHRI in 1998 and is currently Director of the Vision Program. A molecular and developmental biologist by training, she is recognized for her work on the role of Hedgehog signaling in neural progenitor proliferation in the central nervous system. Her research program is focused on elucidating the mechanisms of morphogen signaling in visual system development and application of this knowledge in Hedgehog pathway tumorigenesis and the development cell transplantation for degenerative retinal disease. Dr. Wallace holds peer-reviewed grants from the Canadian Institutes of Health Research (CIHR), Canadian Cancer Society and the Foundation Fighting Blindness (Canada) and is currently lead investigator of a CIHR/FFB-funded Team Grant in Regenerative Medicine. She currently serves on grant review panels for the FFB and the Multiple Sclerosis Society of Canada and is a member of the Stem Cell Network of Canada.
Research Activities
Dr. Wallace's research program is directed towards understanding how cell number and fate are regulated in the developing brain. Using the retina as a model of brain development, the Wallace lab investigates the function of cell extrinsic factors, in particular Wnts and Hedgehog proteins, in these processes. Her lab has identified essential roles for Wnt signaling in early eye patterning and Sonic hedgehog in neural progenitor proliferation and self-renewal. Ongoing research includes the identification and functional characterization of Wnt and Hedgehog target genes in retinal progenitors, elucidation of the mechanism of Hedgehog trafficking in neurons, functional analysis of Hh target genes in cancer and cell transplantation in retinal disease.
Funding Sources
Canadian Cancer Society
Canadian Institutes of Health Research
Cancer Research Society
Foundation Fighting Blindness
How to apply
Student and postdoctoral applicants are encouraged to contact Dr. Valerie Wallace directly. vwallace@ohri.ca.
Selected Publications
McNeill, B., Mazerolle, C., Bassett, E., Mears, A. J., Ringuette, R., Lagali, P., Picketts, D. J., Paes, K., Rice, D. and V. A. Wallace. 2013. Hedgehog directly regulates Norrie Disease Protein to drive neural progenitor proliferation. HMG in press PMID: 23201751
Ha, A., Liu, H., Perez-Iratxeta, C., Mears, M. J. and V. A. Wallace. 2012. Identification of Wnt/b-catenin modulated genes in the developing retina. Mol Vis 18:645-656 PMID: 22509096
McNeill, B, Perez-Iratseta, C., Mazarolle, C., Furimsky, M., Andrade-Navarro, A. and V. A. Wallace. 2012. Comparative genomics identification of a novel set of temporally regulated Hedgehog target genes in the retina. MCN 49:330-340. PMID:22281533
Cwinn, M, Mazerolle, C., McNeill, B., Ringuette, R., Thurig, S., Hui C.-C. and V. A. Wallace. 2011. Suppressor of Fused is required to maintain the multipotency of neural progenitor cells in the retina. J. Neuroscience 31(13):5169-5180. PMID:21451052
Shawn T Beug, Robin J Parks, Heidi McBride, and Valerie A Wallace. 2011. Processing-dependent trafficking of Sonic hedgehog to the regulated secretory pathway in neurons. Molecular Cellular Neuroscience 46(3):583-96 PMID:21182949
Wall, D. S., McNeill, B., Mazerolle, C., Thurig, S., Wang, Y., Kageyama, R. and V. A. Wallace. 2009. Progenitor cell proliferation in the retina is dependent on Notch-independent Sonic Hedgehog/Hesl Activity J Cell Biol 184(1):101-12. PMID: 19124651
Dakubo, G.D., Mazerolle, C., Furimsky, M., St. Jacques, B., McMahon, A.P. and Wallace, V.A. 2008. Ihh signaling from endothelial cells is required for sclera and retinal pigment epithelium development in the mouse eye Dev Biol 320:242-255. PMID: 18582859
Liu, H., Xu, S., Wang Y., Mazerolle, C., Thurig, S., Coles, B. L. K., Ren, J.-C., van der Kooy, D., and Wallace, V. A. 2007. Ciliary margin transdifferentiation from neural retina is controlled by canonical Wnt signaling. Dev Biol 308:54-67. PMID: 17574231
Yu, C., Mazerolle, C., Thurig, S., Pacal, M., Bremner, R. and Wallace, V. A. 2006. Direct and indirect effects of hedgehog pathway activation in the mammalian retina. Molecular Cellular Neuroscience. 32:274-282. PMID: 16815712
Wang, Y., Dakubo, G., Mazerolle, C, Thurig, S., Shiga, S. and Wallace, V. A. 2005. Retinal ganglion cell-derived Sonic hedgehog locally controls proliferation and the timing of RGC development in the embryonic mouse retina. Development 132:5103-5113. PMID: 16236765
http://www.ncbi.nlm.nih.gov/pubmed?term=wallace%20va
Laboratory Members
Research Associate
Dr. Alan Mears – amears@ottawahospital.on.ca
Postdoctoral Fellows
Erin Bassett erinbassett@hotmail.com
Graduate Students
Charles Campbell charles-campbell1@hotmail.com
Randy Ringuette randyringuette@gmail.com
Sheila Smiley sheila_smiley@hotmail.com
Faduma Jama fadumaj@gmail.com
Nicholas Tokarew ntoka102@gmail.com
Research Assistancee
Chantal Mazerolle – cmazerolle@ohri.ca
Sherry Thurig – sthurig@ohri.ca